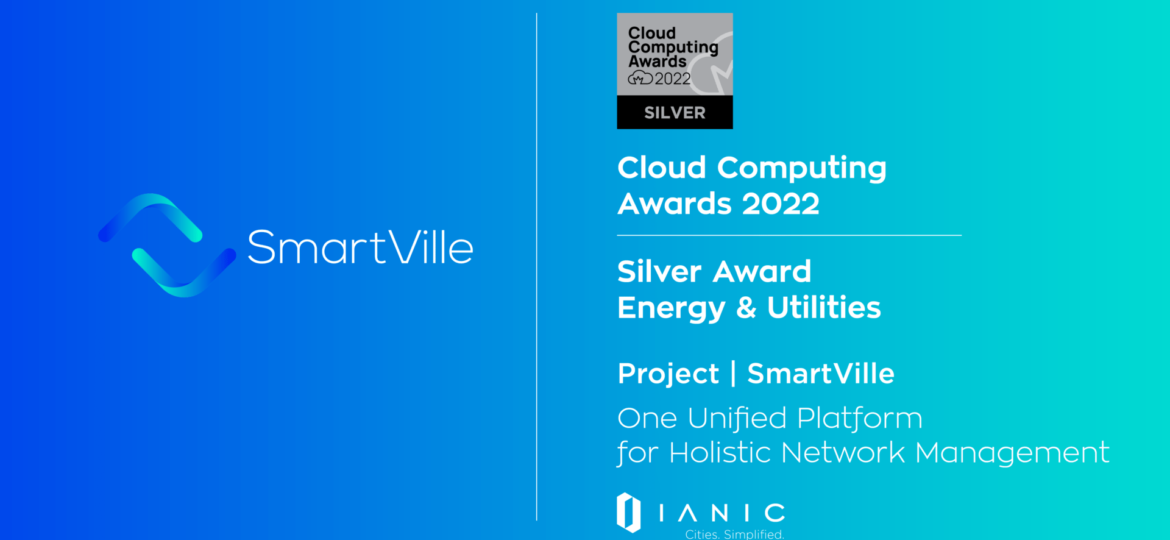 Cloud Computing Awards, the awards that acknowledge that cloud services and infrastructure are at the heart of the digital transformation, and praise companies, organizations and IT providers for their innovative practices in the industry, announced their winners for 2022.
IANIC S.A. received the Silver Award in the category of Energy & Utilities with SmartVille, the Unified Web Orchestration Platform of Horizontal IoT (Internet of Things) levels that allows and optimizes the management of smart meters and sensors from different areas of a digital and autonomous city (water and sewerage, mobility, energy, waste management etc.).
The platform utilizes in the best way possible structured APIs that enable communication with a wide range of sensors and devices through various communication protocols, such as Wireless M-Bus (wM-Bus), NB-IOT, LoRaWAN and Sigfox, as well as the hosting of other smart applications, giving organizations the ability to integrate different technologies and standards into a unified dashboard.
The main goal is to gather data and information and generate trends and insights (AI) of the network and infrastructure in a single dashboard for daily operations management, fruitful decision making and future action planning.
SmartVille has been developed with cutting-edge cloud computing technologies, with the aim of merging and sharing services and computing resources between different entities, as well as effectively serving the needs of any organization's information systems, through the immediate and flexible allocation of resources from horizontal computing centres, according to the respective operational needs, which change dynamically.
SmartVille is a software provided as a service (SaaS), which allows its users to connect and use its applications via the internet. In fact, users can run most SmartVille applications directly from the web browser without having to download and install any software.
To ensure the maximum functionality of the integrated system and the required QoS (Quality of Service), the web platform, the underlying infrastructure, the intermediate software and the applications are hosted in an IANIC data center, within the European Union, in a virtual machine environment (Virtualization), with management (Administration) of the Central Database and Applications by IANIC.
Guarantees are provided through Service Level Agreements (SLAs) for the security of data from unauthorized access as well as for ensuring the confidentiality and integrity of the data.