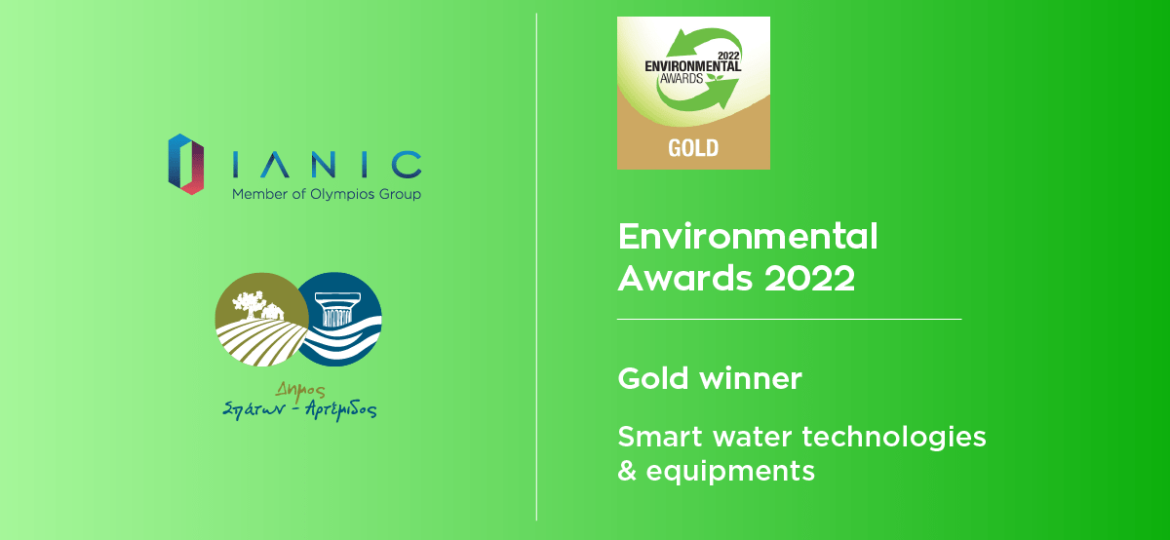 Environmental Awards, the awards that highlight and reward good practices and initiatives for environmental protection and sustainability, as well as innovative "green" projects, technologies and programs, have announced their winners for 2022.
IANIC, member of Olympios Group, was the Gold Winner in the "Smart Water Technologies & Equipment" category for the installation and operation of a System for the Remote Control, Internal Network Management & Leak Reduction in the water supply networks of the Municipality of Spata-Artemida.
The award was bestowed by the coordinator of the jury, Mr. Konstantinos Mantzios, Marine Engineer and Inspector of Environmental Management Systems, to Mr. Nikos Petroulias, Chairman of Olympios Group, and Mr. Dimitris Markou, Mayor of Spata-Artemida.
Mr. Markou referred to the various social and environmental benefits from the digitization project of the municipality's water supply networks, such as, among others, ensuring the adequacy and quality of the water supplied, the saving of water resources, the upgrading of services to the citizens, the valid pricing of consumed water, as well as the reduction of energy consumption and environmental footprint.
The collaboration between IANIC and the Municipality of Spata-Artemida continues with the implementation of a unified information system for the holistic management of the city's smart sectors, which includes, besides water supply, the management of waste collection, vehicle parking and air quality.
We would like to thank BOUSSIAS company for the excellent organization of the event and their essential role in supporting and promoting the business sector in Greece.